City Tours
Lucca and Pisa
Tour summary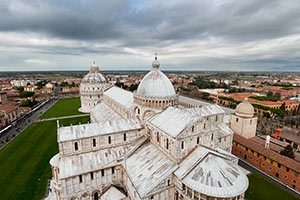 History and traditions will weave together in this tour, in which you will discover two close and yet such different major towns in Tuscany. Charming Tuscany sights will frame this relaxing day.
Lucca is a very well known art town both for its perfectly intact city walls and for the many churches which seems to be around every corner and gave it the epithet of "the town of the 100 churches". Beyond Medieval buildings and Romanesque churches, Lucca offers a lively cultural life with museums, art exhibitions and events all year long.
Pisa is worldwide known for its monuments as well: The Leaning Tower, the Duomo and the Baptistery on the glorious Field of Miracles. Nowadays Pisa is also an important university town and its schools are well appreciated all over Europe.
Tour sheet
Duration: 8h/9h
Lunch / Tasting:
not included
2-8
Itinerary details
Departure from your Hotel/Villa
Visit the town Pisa, see the Field of Miracles and the world-famous Leaning Tower
Enjoy some free time in Pisa
Arrive in Lucca
Stop for lunch in a typical Tuscan Restaurant in the town center (optional and upon reservation)
Visit Lucca, Italy's most impressive fortress city, encircled by a perfectly intact wall
Return to your Hotel/Villa.